In the past, and for a long time, trading was perceived as the prerogative of a certain class of professionals. However, the technology revolution is shaking up the trends, making trading accessible to everyone.
From now on, investors and traders are on a single and same virtual platform. Unlike the classic trading system and the offers of traditional brokers, here the advantages are legion. If you want to learn more, read this article.
An effective way to save money
Unlike the services of a physical broker, transactions made through digital sites are inexpensive. In addition, the rates assigned to these operations are subject to reductions over time. By choosing the best trading platform, it is even possible to trade these prices lower.
Moreover, in the virtual world, transactions are instantaneous and can be done independently. That is to say, you no longer need to depend on a broker. Indeed, any investor, whatever his level, is free to access a site in order to discover the options offered. Thus, on brokerage sites, the trader can follow the evolution of his financial assets.
In order to perform a good analysis, you will have various research reports and analytical interfaces. Accessible at any point thanks to an internet connection, you could then trade all kinds of financial assets (stocks, currencies, commodities and derivatives).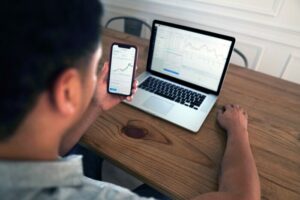 The guarantee of expertise
Although many banking institutions offer online trading to their customers, very few of them (customers) trust them. Indeed, this hesitation stems from the fact that trading is not part of the offers of a bank at the base. On the other hand, the trading revolution has favored the development of several specialized sites.
However, it is important to specify that not all trading sites offer the same services. This is why it is advisable to take care to choose the site that will help you achieve your goals. However, on the trading platforms, you will be entitled to various useful and practical tools for all types of investors: new or experienced.
Concretely, you could have training on account opening methods. Others will introduce you to currency pairs you might trade, reading charts, and more.
Gain independence in managing your assets
By opting for online trading, you have easy access to all the information relating to your investments. From now on, any purchase and sale can be done freely without resorting to a broker. In other words, whether it comes to negotiations and decision-making, the final word is up to you.
Attention! This independence of the investor should not be seen as an opportunity to permanently get rid of the broker. In reality, this professional still has essential notions that can help optimize your results. Therefore, it is preferable to maintain a good level of collaboration with him.