To effectively manage a business, it is important to use certain management tools such as sales forecasts. They play a strategic role in inventory management and can be a strategic indicator of success. Unfortunately, many companies still struggle to understand the role that sales forecasting plays. This article, therefore, provides you with all the useful information on business sales forecasts.
Why Do Sales Forecasts?
For a company that puts products and services on the market, making sales forecasts makes it possible to predict the number of products to be made available to satisfy customers over a given period. Indeed, when the exercise of evaluating sales forecasts is not done or when it is badly done, the company is exposed to two major risks.
It may underestimate the demand of its customers and produce an insufficient stock to meet the expectations of its customers. In this case, customers may turn to the competition to meet their needs. In the long term, this inability to satisfy customers will not only create a loss of revenue for the structure but may also lead to the loss of customers.
In the opposite case, if demand is overvalued, the structure risks producing a stock that it will not be able to dispose of properly. It risks exposing itself to problems of poor sales and will have to face the costs linked to the management of excess stock. In the worst case, the stock will become unfit for consumption after a period of time and will have to be accounted for as losses for the structure.
So many elements that clearly illustrate the importance of making sales forecasts.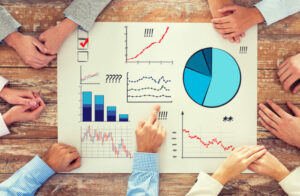 On What Basis Should You Make Your Sales Forecasts?
To make reasonable sales forecasts, it is essential to base your analysis on data from previous years. The starting point is, therefore, the sales figures for the previous year. They allow you to get an idea of ​​the size of the request. Then, you have to cross-reference the figures collected. This analysis will allow you to determine on average the number of new customers you win each year and the number you lose. You will also be able to determine the months in which you have the best sales scores to be able to make forecasts taking these aspects into account.
If, on the other hand, you are a start-up company and you don't yet have exact data to use for sales forecasting, don't panic!! You can start from the assumptions and use the numbers you gathered during your market research. These elements will allow you to have an idea of ​​the objective forecasts on the basis of which you can start.
But if all this does not seem easy to you, know that there are digital tools designed to make your life easier in this matter.
Forecasting Pitfalls to Avoid
It is important to keep your feet on the ground in the exercise of sales forecasting. This is to avoid the pitfalls of ignoring objective assumptions, for example. Failing to use the services of a professional consultant for an expert opinion could also cause you to fall into certain traps with serious consequences.